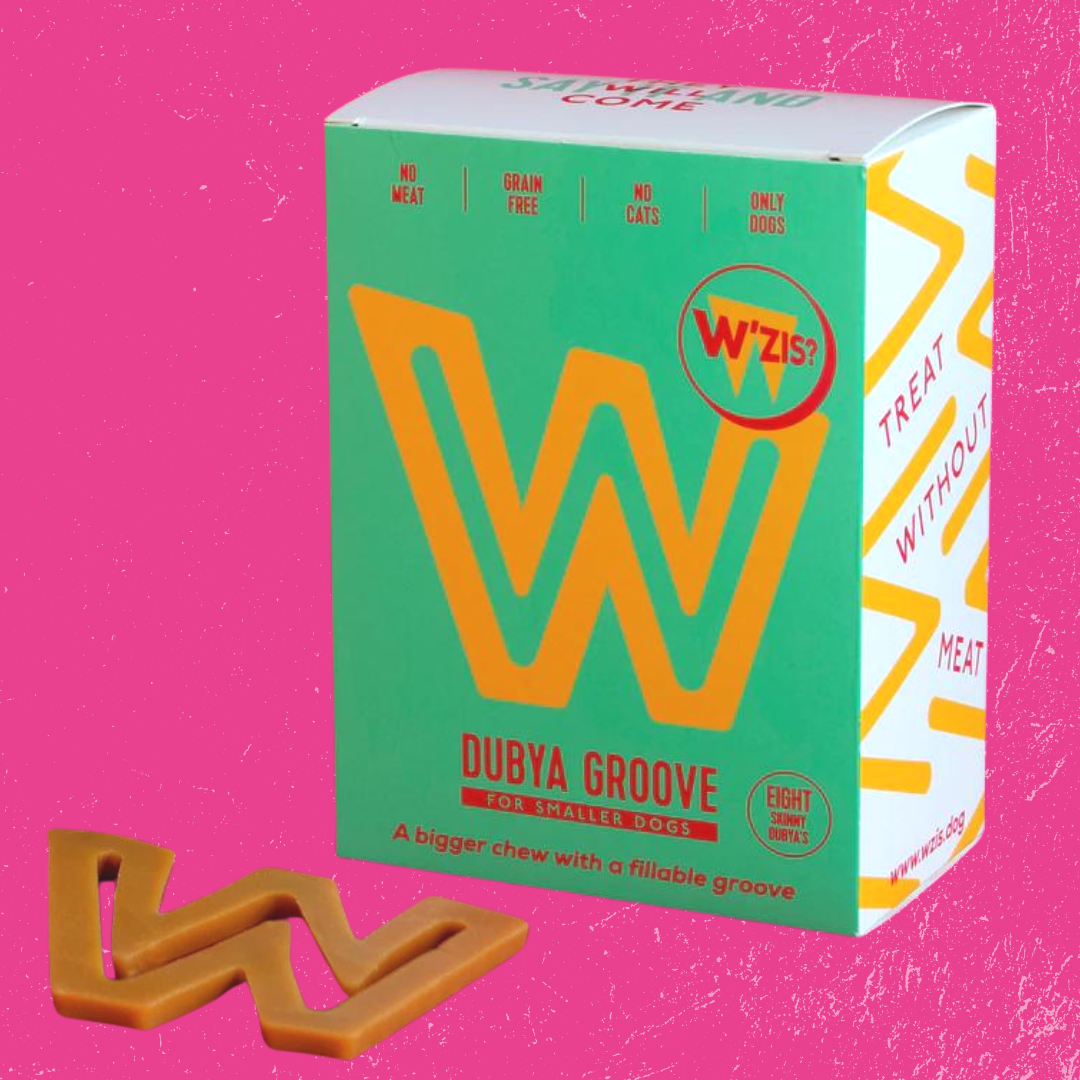 The Dubya Groove has a greater capacity to hold dog-approved pastes. On its own, the groove gives them something to stick their teeth into. Smear it with a dog-friendly peanut butter or cream cheese for added pooch satisfaction.
Available in two sizes for small and larger dogs.
What's a W'ZIS Dubya Groove? Well, it's a 'W' shaped chew, and it has a groove in it – no poop Sherlock. The Groove's primary function is to aid your pooch's ability to pick it up. The second is an aperture for carrying an additional treat. Load it up with dog-friendly cream cheese or peanut butter, and your friend for life is about to submit a request to The Palace regarding your long-overdue knighthood.
During W'ZIS's very scientific tests, this is the one that drove the W'ZIS doggos to distraction: Greta buried it, Marmite's (and we're not kidding) eyes turned a piercing red, ready to emit a searing death-ray to any potential threat. So BEWARE, it's a treat to be taken seriously.

Ingredients
Composition: Sweet Potato Flour 38.90%, Pea Flour 35.00%, Vegetable Glycerin 8.50%, Peanut butter (Xylitol free) 5.00%, Calcium Carbonate 5.00%, Dried Brewers Yeast 3.50%, Dried Pumpkin 3.00%, Sunflower Seed Oil 1.00%, Potassium Sorbate (natural preservative 0.10%)
Analytical constituents: Protein (min) 1.50%, Fat Content (min) 1.00%, Crude Fibre (max) 3.50%, Crude Ash (max) 5.00%, Moisture (max) 16.00%