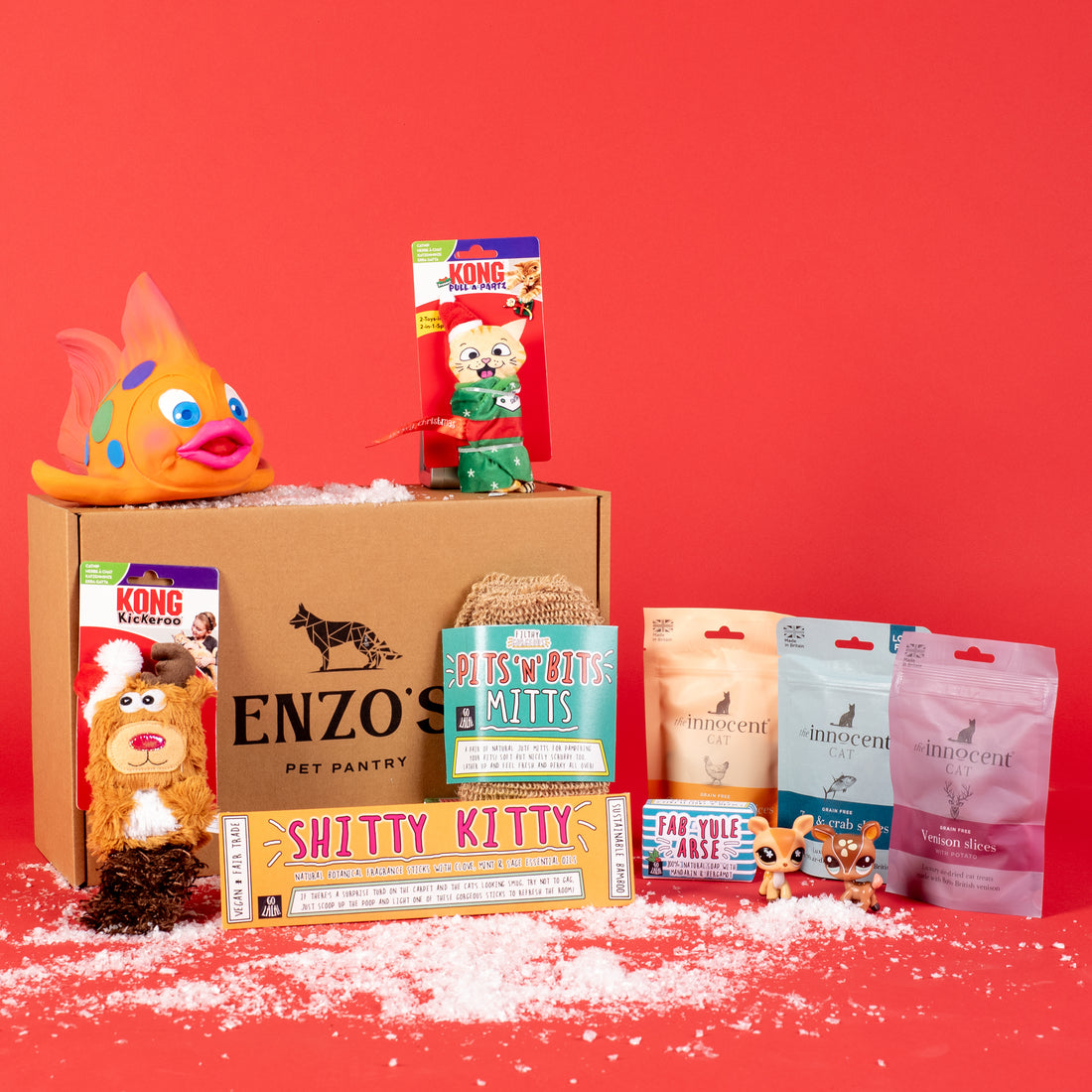 Enzo's Christmas Cat & Minion Gift Box
This Christmas, make it a paw-sitively purr-fect one with Enzo's Cat & Minion Gift Box! 😋
Pamper your pet with KONG toys and Innocent Cat snacks, while spoiling yourself with Go La La's award-winning Fab Yule Arse Xmas soap and Shitty Kitty incense sticks. Humans and cats alike will 'meow' with appreciation!
Your Gift Box includes:
 For the cat: 
KONG Holiday Cat Pull A Partz Present




KONG Holiday Kickeroo Toy




The Innocent Cat Tuna & Crab Slices 70g




The Innocent Cat Venison Slices 70g




The Innocent Cat Chicken & Duck Slices 70g



For the minion:
Fab Yule Arse Xmas Soap: 100% natural soap - Fragranced with festive mandarin and gorgeous bergamot, and made with Shea Butter it's a cheeky gentle treat for all over the body.


Pits n' Bits Mitts / Tits n' Bits Mitts: A pair of natural jute mitts to pamper your bits! 
Shitty Kitty Incense Sticks: 

These lovely sticks are made from sustainably sourced natural bamboo, and are coated in blended florals, spices, resins and herbs before being dipped in essential oils and fragrances. Made in India from a Fairtrade business, these sticks are cruelty free and vegan, and have no plastics, artificial colours or fragrances.



About Go La La (the suppliers of the human gifts): Go La La is a greeting card and gift business based in the West Country, UK, founded by John and Laura.
Their designs can be found on numerous humour greeting card ranges and also their award-winning Filthy Gorgeous soap range, which won the Judge's Vote and Novelty category in the 2021 Gift of the Year competition.
They are stocked by high street chain Scribbler as well as numerous independent shops across the UK, and can be found online at Scribbler, Thortful and Moonpig.
All of their products are designed and produced in the UK.
Their goals are quite simple; to be creative, make people laugh and earn a living.
 *Non-Kong toys in the image are not included.