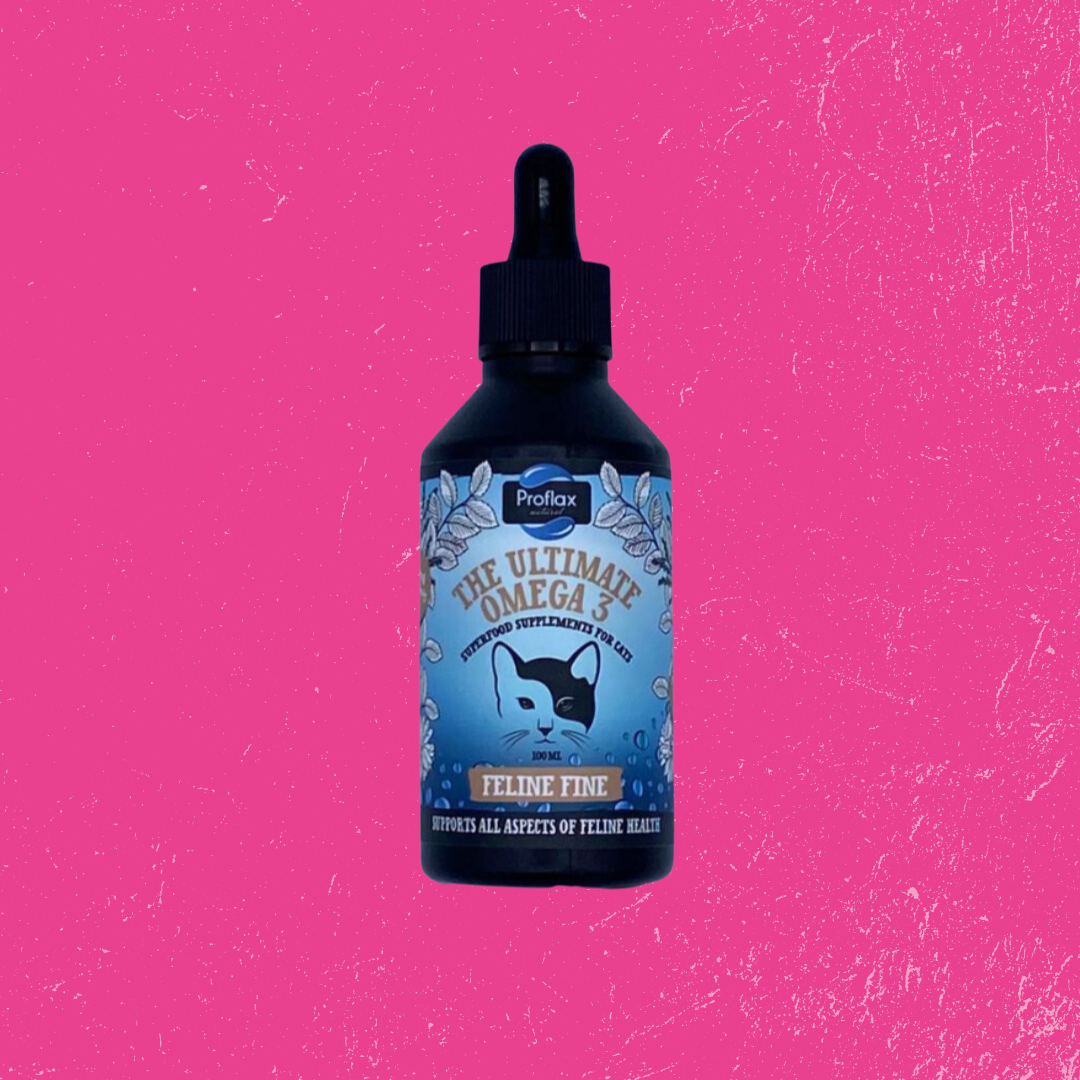 Proflax Feline Fine for Cats
Experience the wild side of life with Proflax Feline Fine! A 100% natural supplement with no added fillers, Proflax Feline Fine unleashes the ultimate cat adventure! Get ready to take a risk and roar with vitality. Unleash the wild!
This ready to feed pourable supplement contains superfoods Omega3 & 6 white fish oil and concentrated herbal tinctures to maintain the general health and wellness of your cat. Contains ingredients that specifically help to support the kidneys, bones & joints, heart, brain and digestive, immune and respiratory systems. Has calming properties. Ideal for kittens from 12 weeks.
Being holistic, it will support your cats physical and emotional health. Vet approved, fast acting. 
Available in 100ml bottles only. 
Feline Fine suitability
Suitable for all breeds
Not recommended for pregnant/nursing cats or kittens under the age of 12 weeks old
Not to be used if your cat is sensitive/allergic to any of the ingredients listed. Stop feeding 5 days prior to an operation or anaesthetic. Check with your vet if your cat has an underlying condition or is taking medication before giving this product.
More Information, Ingredients & Feeding Guidelines
Key benefits;

Supports the heart, kidneys & liver
Keeps the immune, digestive  & circulatory systems healthy
Aids respiration
Relaxing & calming

Nutritionally supportive
Holistic formula for physical and emotional wellbeing
Ingredients: 
75% Omega 3 rich fish oil blend (anchovy, sardine, herring, mackerel and tuna)

25% herbal tincture formula 
(ethanol & glycerine based)
consisting of:
Cordyceps: An adaptogenic herb that supports the health of the kidneys, liver and immune system. Aids optimal respiration. A powerful antioxidant
Milk Thistle: An adaptogenic herb that helps to support the health of the liver. Aids detoxification. Contains trace vitamins and minerals; calcium, magnesium, potassium, folate and vitamin A.
Angelica Sinensis: An adaptogenic herb that supports the heart, circulatory and immune systems. Supports optimal renal function. 
Astragalus: A powerful adaptogenic herb that has protective properties for the kidneys and heart. supports a healthy immune system. A rich source of polysaccharides and phytosterols.
Eleutherococcus: An adaptogenic herb that helps to keep the immune system strong and healthy.
Valerian: Has calming and relaxing properties. Improves palatability 
Cinnamon: Promotes a healthy appetite and aids digestion. Contains iron, magnesium, zinc, mucilage and lots of volatile oils that give it its unique aromatic flavour, thus improving palatability.
Feeding & Storage Guidelines;
Suitable for cats fed all types of diet. Simply shake well and pour over regular food once daily.
Feed between 0.5ml to 1ml to every 2kg of cats weight per day. Feeding 2ml per day (4kg cat) this 100ml bottle will last 50 days and works out to .20p per day! We suggest the same break period every 12 weeks for a period of approximately 5 days. See our FAQ section for more details.
Store in the fridge once opened and in a cool, dark place prior to opening. Every bottle lasts 8-12 weeks when stored in the fridge after opening. Batch and expiry date are shown on every bottle and shelf life is a total of 18 months
Cats can be super fussy - and very strong willed! If you have a fussy feline then we suggest feeding at the lower daily amount to start with and then increase to the recommended daily amount as your cat gets used to the taste and smell. For example, for a 4kg cat, at 0.5ml to every 2kg of weight you would feed just 1ml per day. This can be split over two feeds per day.