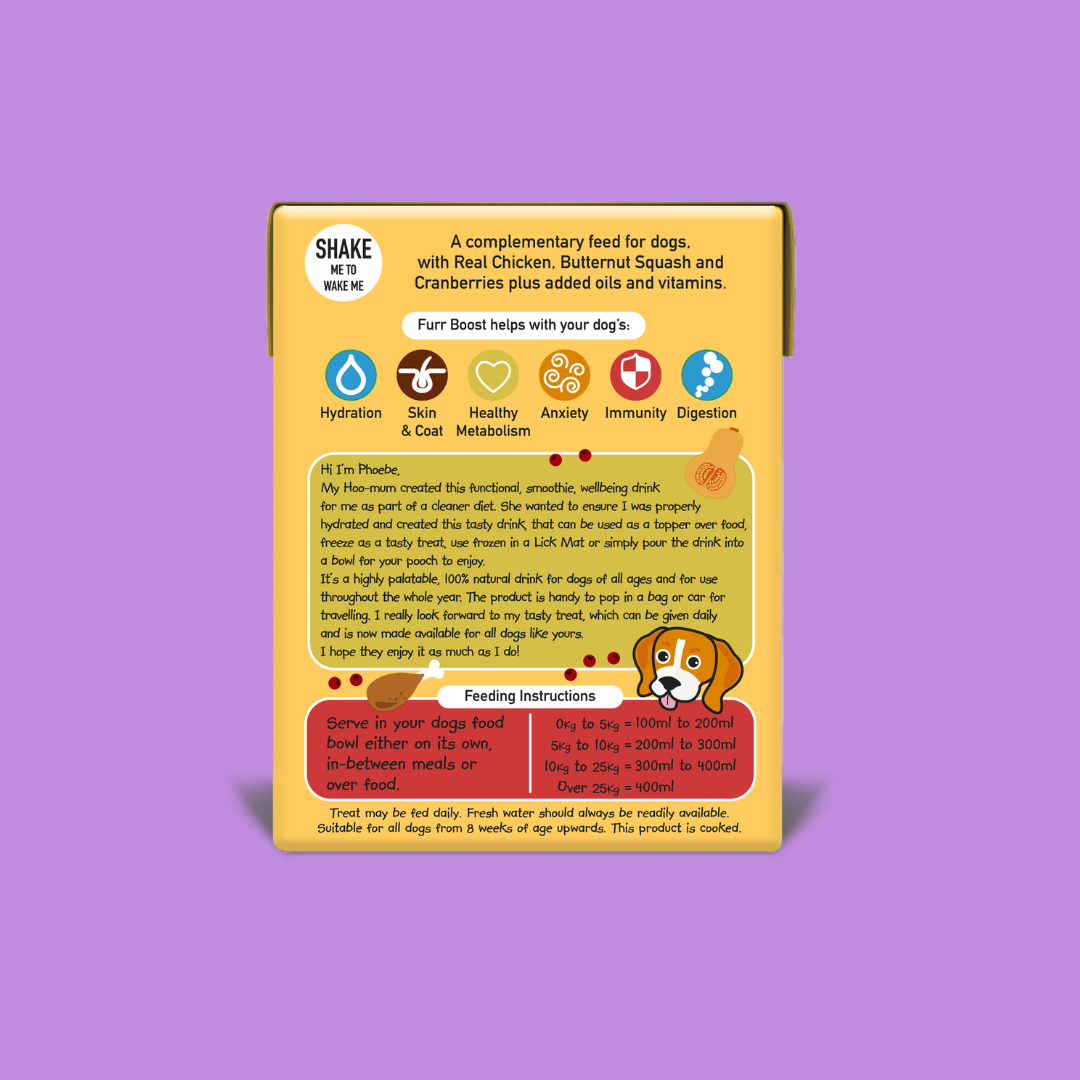 Furr Boost Drink, Chicken, Butternut Squash & Cranberry Drink 400ml
Chicken, Butternut Squash & Cranberry food drink by Furr Boost is a tasty complementary feed to add to your dogs daily water intake, designed specifically to aid your dogs well being. 
Hydration In Dogs Is Important: Just like you, a dog's body is around 80 % water. This water is essential to help dissolve and carry substances throughout their body. It's also the basis for most processes and chemical reactions that keep a dog healthy.
Digestion, circulation, waste filtering, and body temperature regulation are just a few of the internal processes driven by water.
There are lots of ways to top up your dog's daily water intake, like keeping water bowls in many rooms, incorporating wet food into their diet. But one of the easiest ways is to just add flavour!
The water intake of a dog is calculated at 50ml per Kg of body weight, but may need more if the weather is warm, or from exercising, or if taking medication that may dehydrate.
Always ensure that your fur baby has access to clean drinking water
Furr Boost is only made with human grade ingredients, using the best quality meat, vegetables, fruit, added oils and vitamins. Furr Boost ensure your pet is only consuming the best to help with a happy and healthy lifestyle at the best price!
Furr Boost's Chicken, Butternut Squash & Cranberry drink contains:-
10% Chicken

 

- naturally high in protein and low in fat.
Butternut Squash

 

-Full of antioxidants, as well as being high in vitamin A, C and beta carotene.
Cranberry- An antioxidant superfood hero. Rich in antioxidants and high in fibre, as well as being high in vitamin C, manganese and vitamin E.
Also containing:-
Added Oils-

 

Flaxseed, Coconut and Salmon Oil are high in fatty acids and omega 3 and 6 for skin, coat and joints.
Dried Sea Kelp- Sea Kelp has many benefits, from iodine for immunity to vitamin and mineral content for skin and coat as well as benefits for digestion.
Chicory Root Extract-

 

Contains inulin as a prebiotic for a healthy digestive system.
Yeast Beta Glucan-

 

To support the immune system.
Vitamins-

 

B vitamins for health metabolism and anxiety and Vitamin C acts as an antioxidant for immunity.
Water-

 

Finally hydration from good old fashioned water to help keep a dog and their nose hydrated for sniffing power.
Apple-

 

Source of fibre, as well as vitamins A and C.
Healthy hydration for your furr baby: Is your dog refusing to drink water or you want your dog to drink more? This tasty range of dog drinks will be hard for your dog to refuse and contain a great range of nutrients to help support their diet and overall wellbeing. Why not warm them up to make a healthy soup for your dog in winter or keep them cool for a hydrating dog smoothie on a warm day?
If you are struggling to get your dog to drink more water, please check out our blog – Top tips for keeping your pet hydrated.
Furr Boost's hydration drinks for dogs are suitable all year round and come in a range of flavours to suit even the fussiest of dogs.
Plenty of Protein: Protein is essential for supplying amino acids, which help build healthy muscles, tendons, ligaments and cartilage so it is vital that your dog gets enough in their diet. One of the main ingredients in Furr Boost is protein.
Healthy Digestion: Just like humans a healthy digestive system is important to overall wellbeing, so your dog's diet should include a perfect balance of prebiotics, fibre and vitamins to maintain good gut health. Furr Boost use a variety of fruit and vegetables in their range including blueberry, broccoli, butternut squash, cranberry, apple and sweet potatoe to provide fibre to keep digetsive systems working well. Each flavour also contains natural added goodness including chicory root extract which acts as a prebiotic, yeast beta glucan to support the immune system, vitamin B for a healthy metabolism and immune system and vitamin C as an antioxidant.
Added Natural Oils: Each flavour of Furr Boost is packed full of added natural oils from ingredients like salmon and cocount, plus flaxseed and dried sea kelp to keep skin hydrated and coats glossy!
Other ways to use Furr Boost
Kong Or Training Distraction: It can be used frozen in a lick mat or Kong as part of enrichment or dog distraction training
Freeze As A Icy Treat: As the weather gets hot and you have a hot dog that needs cooling, freeze Furr Boost as a cool icy treat and give your dog some extra rehydration.
Tasty Food Topper: Has your dog lost their appetite? Or gone off their regular food? Furr Boost makes a great tasty topper over their regular dog food to encourage appetite and entice them to clear their bowl again.
Storage Instructions: Store in a cool dry place, once opened keep refrigerated and use within 4 days.
Daily Feeding Instructions: Serve in your dogs food bowl either on its own, in-between meals or over food.
Fresh water should always be readily available.
Ideal for dogs fed on a dry or wet & dry combination diet.
This product may not suit those dogs on a strict raw feeding diet. Strict raw feeders should treat this product as a new food and introduce gradually.
0Kg to 5Kg = 1/4 pack
5Kg to 10Kg = 1/2 pack
10Kg to 25Kg = 1 pack
Over 25Kg = 2 packs
The above guidelines are set at a third of your dogs daily water intake, and can be topped up by another two thirds to ensure that your dog is fully hydrated or to help push fluids.
Ultimately it's up you to decide on how much or how little your dogs Furr Boost intake should be, but Furr Boast drinks can be given daily as part of their feeding routine.
Composition: Water, Chicken (10%), Butternut Squash (8%), Cranberries (4%), Flaxseed Oil, Coconut Oil, Salmon Oil, Dried Sea Kelp, Chicory root extract (as a source of the prebiotics FOS and Inulin, 0.36%), Yeast products (as a source of beta glucans, 0.004%):
Additives: Nutritional Additives (per 1000ml): Vitamins; Vitamin C 825mg, Niacinamide 15mg, Vitamin B1 8.3mg, Calcium-D-pantothenate 7.5mg, Vitamin B2 1.5mg, Vitamin B6 0.75mg, Folic acid 0.75mg, Biotin 0.075mg.
Analytical Constituents:
Crude Protein 1.56%
Crude Fat 3.7%
Crude Fibre 0.2%
Crude Ash 0.3%
Moisture Content 90.8%
Calories 50Kcal/100ml
Omega 3 Fatty Acids 0.64%
Omega 6 Fatty Acids 0.57%
DHA 1.39%
EPA 0.91%