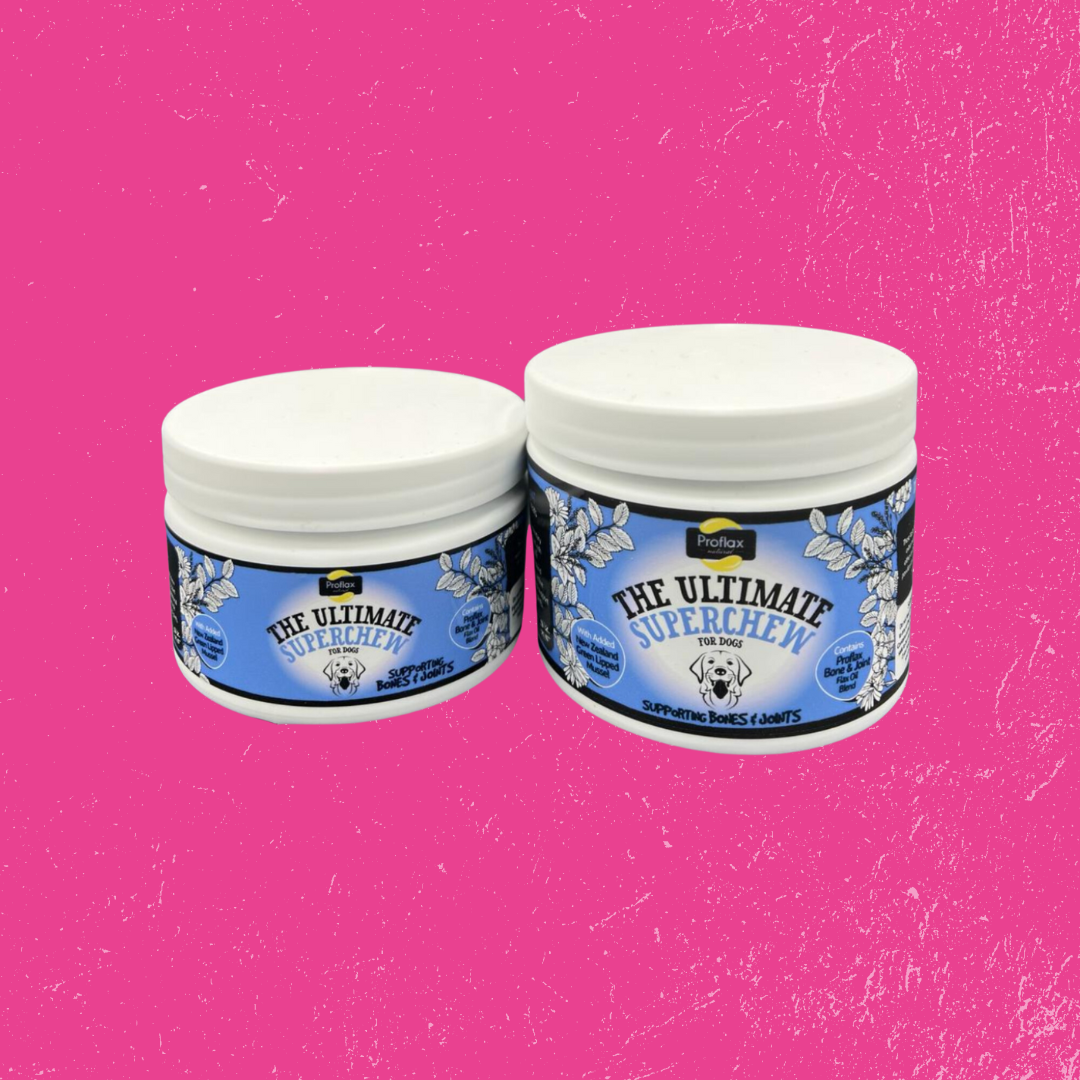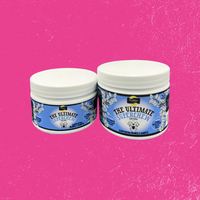 Proflax Bone & Joint Soft Treats for Dogs
A nutritious complementary soft chew treat fortified with 20% Proflax Bone & Joint flaxseed oil & herbal blend plus additional natural, active ingredients including New Zealand Green Lipped Mussel and Vegan Glucosamine to provide extra support of your dogs bones, joints & ligaments.
Proflax Bone & Joint Superchew treats have been gently made without any heating process (cold pressed) which means that all of the ingredients are in their fresh, natural state for maximum effectiveness - an ethos of which Proflax are very proud of!
These tasty treats can be given at any time of the day and are designed to be fed either on their own or in combination with Proflax oils, powders & tinctures as part of a total health programme. Feed whole as and when required for an extra boost, especially after additional exercise, during recovery and for older dogs.
Available in pots of 60 (120g) or 120 (240g)

Experience the power of nature with Proflax's Herbal and Natural Dog Supplements. Proflax is committed to providing your beloved companion with the very best in herbal care.

Order your treats today and witness the difference it can make to your dog's life.
Bone & Joint Superchew Treat suitability
Suitable for dogs only. Not recommended for pregnant/nursing dogs or puppies under the age of 8 weeks old. Not to be used if your dog is known to be allergic/reactive to any of the ingredients listed or if your dog is taking blood thinning medication (anticoagulants) /blood modulators. Please check with your own vet if your dog is taking medication as some herbs can affect the absorption of certain drugs.
More Information, Ingredients & Feeding Guidelines
These soft chew treats pack a powerful punch! Feed as and when required as an additional boost alongside your favourite Proflax oils for additional support of your dogs bones, joints and ligaments, or feed on their own at the daily recommended feeding amount.
Feeding Guidelines (daily, when fed on their own without Proflax oils):
Up to 10g - 1 chew
11 - 25kg - 2 chews
26 - 40kg - 3 chews
Over 41kg - 4 chews
Feeding Guidelines (when fed alongside Proflax oils): 
Feed the recommended amount of treats based on weight as
 and when required for an additional boost, i.e. after extra exercise, recovery etc.
Analytical Constituents: Crude Oil 25.7%, Crude Protein 17.9%, Crude Ash 3.2%, Crude Fibre 2.2%
Composition (mg/per 2 x 2g chews): Proflax Bone & Joint formula (Flaxseed oil, Turmeric, Boswellia, Withania, Dandelion, Ginger, Gotu Kola & Liquorice) 800mg, Glucosamine 500mg, Green Lipped Mussel (Molluscs) 400mg, Beet Fibre, Starch (Potato, Tapioca), Cooked Pork Liver, Sunflower Lecithin powder, Glycerine, Caramel. Contains natural preservatives and antioxidants.
Storage
Keep out of reach of children and animals.
To ensure freshness ensure that the jar is closed tightly and kept at room temperature and away from moisture. Keep out of direct sunlight. 24 month shelf life from date of manufacture and once opened consume within 3 months.