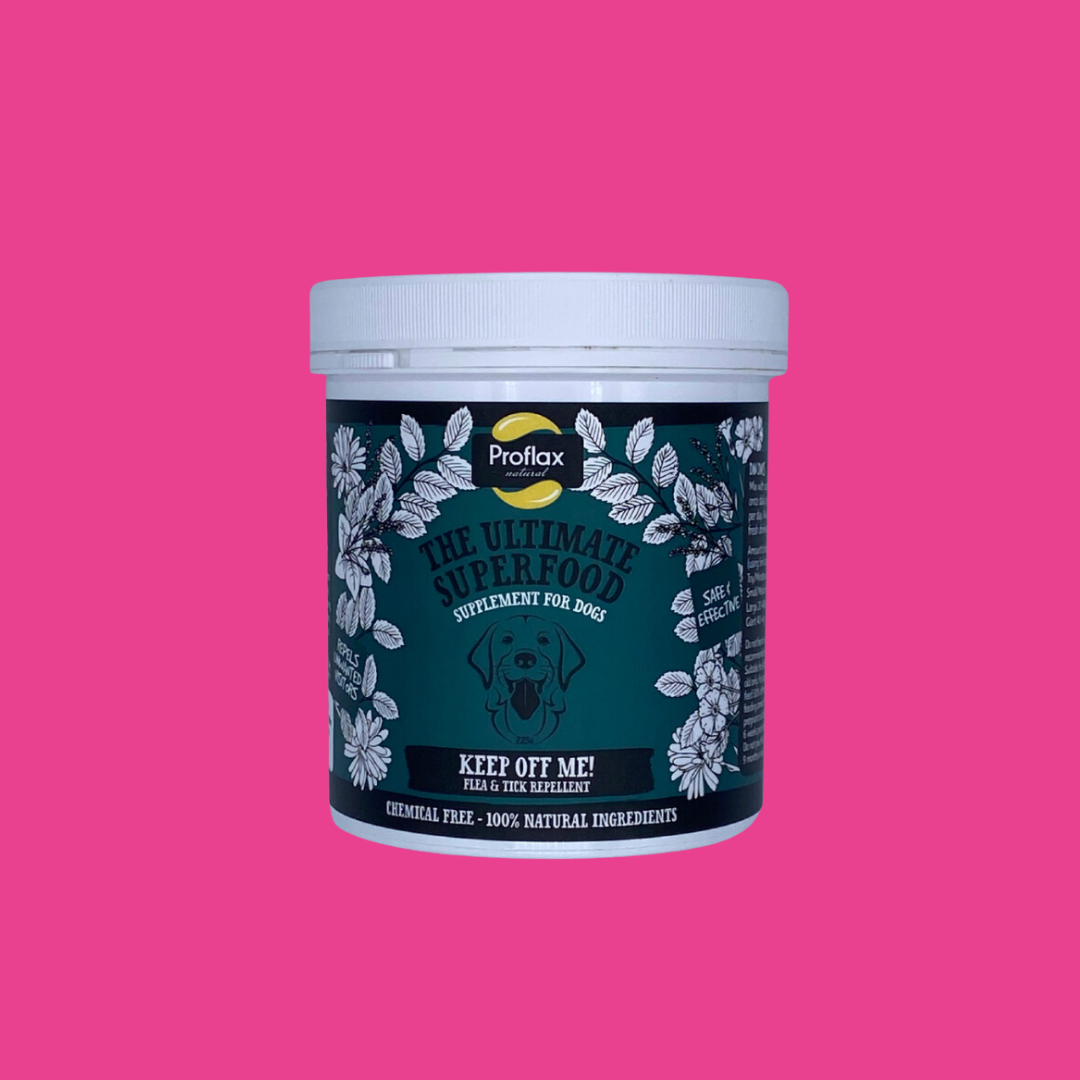 Proflax Keep Off Me! Powder for Dogs
Say goodbye to fleas and ticks with Proflax Keep Off Me! powder for dogs! So you won't have to worry about any smelly, nasty additives. Keep your pup safe from pests and breathe easy!
Ward off fleas, ticks, mites, and other pesky critters with Proflax Keep Off Me! Powder for Dogs! Packed with natural herbal ingredients and an extra dose of Brewers Yeast for extra protection, your pup will be as safe as a dog in a bubble bath. Plus, with added B vitamins for health benefits, your doggo will be looking and feeling their very best. Woof-solutely paw-some!
Being holistic, it will support your dogs physical and emotional health. Vet approved, fast acting. 
Keep Off Me! Suitability
A natural flea & tick repellent for all dogs over 6 months old. 
Not recommended for pregnant or lactating bitches or for use 6 weeks prior to breeding. Not recommended for puppies under 6 months old. Not to be given if your dog is known to be allergic/sensitive to any of the ingredients listed or has a Brewers Yeast allergy. Do not feed for longer than 9 out of 12 months. (we recommend feeding throughout the warmer months of Feb/March - Oct/Nov)
More information, Ingredients & Feeding Guidelines
Key Benefits;
Effectively repels fleas, ticks and other external parasites
Provides nutritional benefits; Vitamin B complex and essential trace minerals
Aids digestion & respiration
Supports a healthy immune system
Supports healthy metabolism
Calming

Supports healthy skin
Aids intestinal hygiene
Ingredients;

Brewers Yeast - 

a rich source of Vitamin B complex (including niacin, riboflavin, thiamine and biotin), beta-glucans, probiotics, protein & minerals. 
Neem - Keeps bacteria, viruses and parasites away. 
Garlic - aids digestion & intestinal hygiene, repels external parasites, supports a healthy immune & cardiovascular system.
Ginger - Aids digestion and packed with vitamins B5 & B6, potassium and manganese.
Lemon Balm - powerful citrus herb that repels parasites. Calming. Aids digestion.
Peppermint - Repels external and internal parasites. Supports healthy skin & circulation.
Feeding Guidelines;
Mix with dogs regular food once daily or split into 2 meals per day. For puppies over 6 months old only. For puppies 6 - 12 months old feed 50% of the recommended daily amount. Do NOT feed in excess of the recommended daily amount.
Amount to feed per day (using 5ml measuring scoop included)
Toy/miniature (up to 5kg) - one scoop (pot lasts 90 days when fed daily)
Small to medium (5 - 20kg) - one and a half scoops (pot lasts 60 days)
Large (20 - 40kg) - two and a half scoops (pot lasts 36 days)
Giant (40+ kg) - three and a half scoops (pot lasts 26 days)
Storage; Shelf life - 12 months from date of manufacture
Store in a cool dry place away from direct sunlight and use by the date shown on the tub. Keep closed when not in use. For animal use only. Keep away from children.