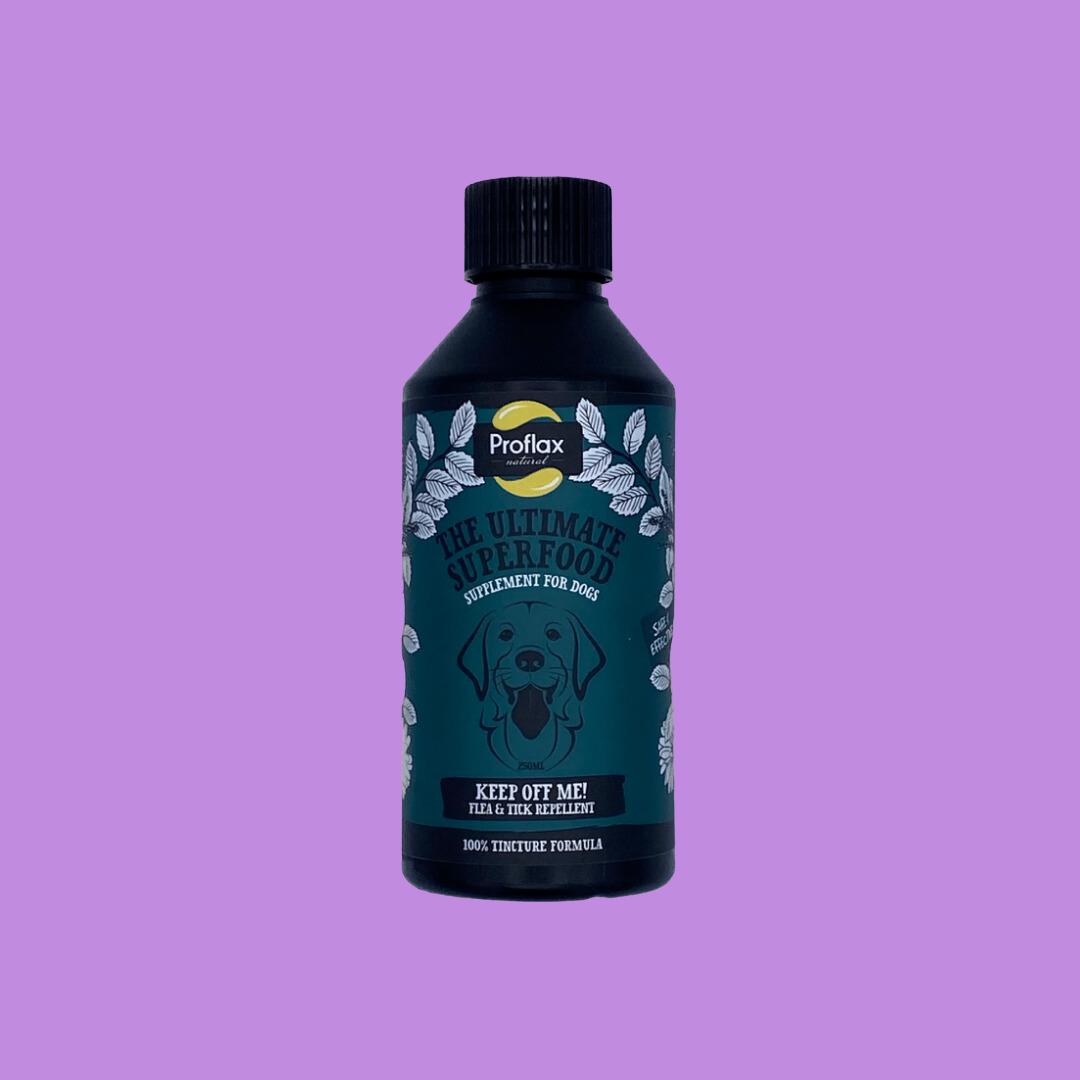 Proflax Keep Off Me! 100% Pure Tincture for Dogs
Let Proflax Keep Off Me! take on the challenge of protecting your pup from fleas, ticks, and mites. Proflax's 100% natural tincture uses concentrated herbal ingredients to naturally repel pests, without any nasty additives or fillers to worry about. Don't let the pests win - keep your pup safe with Proflax!
Keep Off Me! Suitability
A natural flea & tick repellent for all dogs & puppies over 16 weeks old. FOR DOGS ONLY
Not recommended for pregnant or lactating bitches or puppies under 16 weeks old. Not to be given if your dog is known to be allergic/sensitive to any of the herbal ingredients listed. Not to be given to cats due to the inclusion of Neem in this blend.

Experience the power of nature with our Herbal and Natural Dog Supplements. Proflax is committed to providing your beloved companion with the very best in herbal care.

Order your Keep Off Me! today and witness the difference it can make to your dog's life.
More information, Ingredients & Feeding Guidelines
Key Benefits;
Effectively repels fleas, ticks, mites and other external parasites
Aids digestion & respiration

Supports a healthy immune system
Keeps skin clear and healthy
Provides nutritional support

Works quickly!

Ingredients;
Neem

 

- Keeps bacteria, viruses and parasites away. Aids digestion. A fantastic blood detoxifier.
Fenugreek - Supports intestinal hygiene and effectively repels parasites. Has antibiotic, antiseptic and anti-viral properties.
Garlic

 

- aids digestion & intestinal hygiene, repels external parasites, supports a healthy immune & cardiovascular system.
Ginger

 

- Aids digestion and packed with vitamins B5 & B6, potassium and manganese.
Lemon Balm

 

- powerful citrus herb that repels parasites. Calming. Aids digestion.
Peppermint

 

- Repels external and internal parasites. Supports healthy skin & circulation.
Seaweed (Fucus Ves) -  Provides nutritional support - packed with trace minerals. Helps to maintain clear, healthy skin.
 Feeding Guidelines;
Add to your dogs regular food once daily. For puppies over 16 weeks old only.  Do NOT feed in excess of the recommended daily amount. 
Amount to feed per day (using 1ml pipette included)0.2ml to every 2kg of dogs weight. (10kg dog would be 1ml per day).
Based on a 20kg dog being fed 2ml of tincture per day, a 100ml bottle would last 50 days and a 250ml bottle would last 125 days.
Storage;
Shelf life - 24 months from batch date on bottle
Store in a cool dry place away from direct sunlight and use by the date shown on the bottle. Keep closed when not in use. For animal use only. Keep away from children.