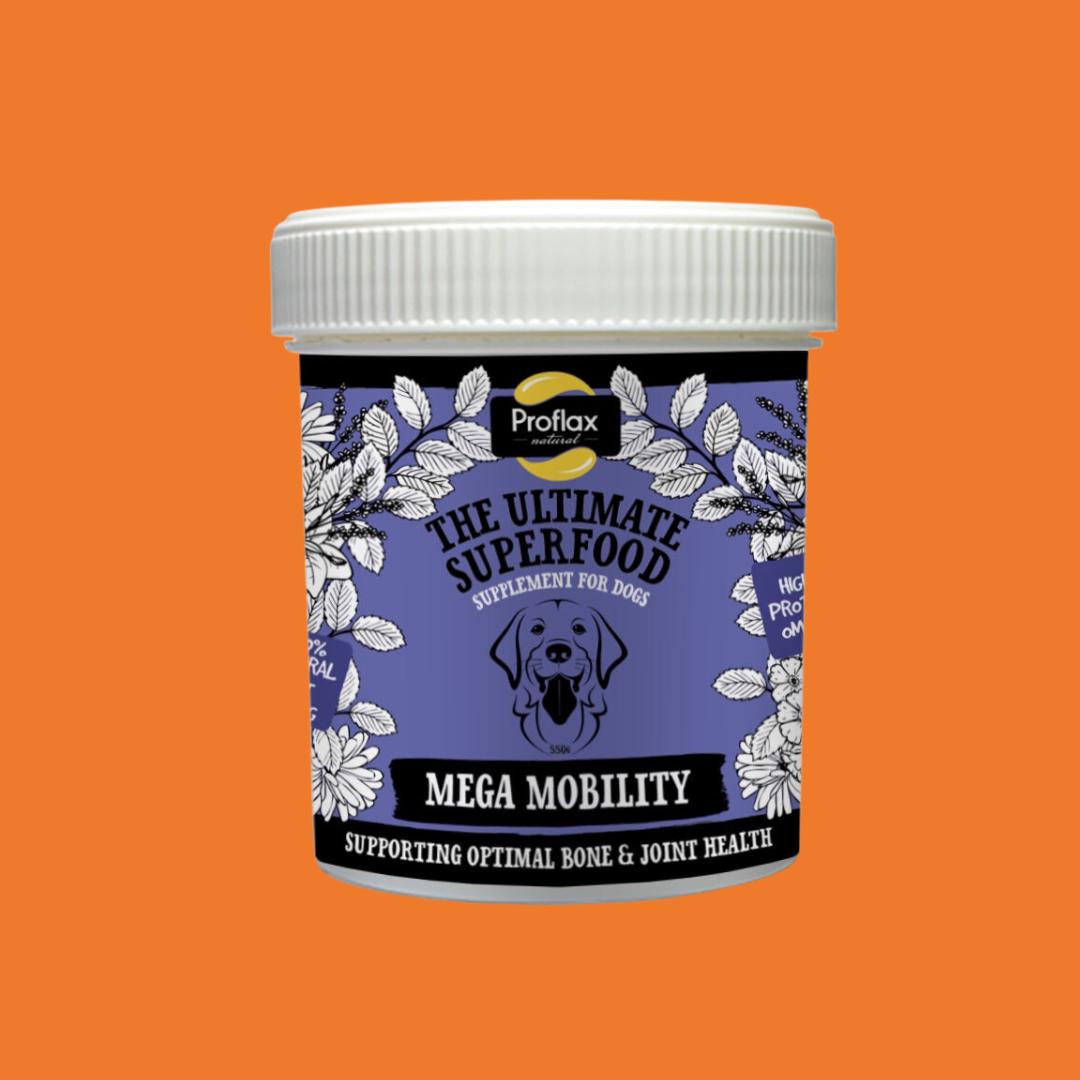 Feel good with Proflax Mega Mobility! This power-packed blend of vegan glucosamine, MSM, herbs, and more support healthy bones and joints. Keep things in motion with a helping of Boswellia, Turmeric, and black pepper, giving your body a mini-makeover with anti-inflammatory benefits. Plus, superfood Spirulina amps up the collagen and Omega 3 in flaxseed helps absorb calcium for maximum muscle strength. Get your daily dose of nutrients!
Mega Mobility has been created for those who prefer to feed a powder and is a fantastic alternative to Proflax Bone & Joint or Omega Bounce oils.
Mega Mobility Suitability
Suitable for all breeds. Not recommended for pregnant/nursing dogs or puppies under the age of 12 weeks old and not to be used if your dog is known to be allergic/reactive to any of the ingredients listed. Proflax Mega Mobility is considered safe to be taken as an integrative approach alongside medication, however, please consult your own vet for advice if at all concerned. 
More information, ingredients and feeding guidelines
Key benefits:
Keeps muscles & ligaments strong
Improves collagen production

Keeps bones strong 
Keeps inflammation at bay

High in antioxidants
Promotes effective circulation and blood vessel flow
Ingredients;
100% natural powder formula
Spirulina: A complete source of protein that contains all 9 amino acids. Anti-oxidant and anti-inflammatory. Modulates blood pressure. Aids the production of collagen.
Ground linseed: High in protein for supporting muscle mass. Aids the absorption of calcium. ALA in linseed (flaxseed) can be helpful for pets that suffer from joint pain like arthritis because of its inflammation reducing properties.
Vegan Glucosamine: helps to reduce inflammation and pain in dogs with joint conditions, such as arthritis. Supports mobility and flexibility.
Turmeric (Curcumin) & black pepper:  Anti-inflammatory and improves mobility.
Nettle: Keeps inflammation at bay and relieves pain. Packed with antioxidants. Supports the immune system. Contains trace minerals potassium, calcium, magnesium and iron.
Blueberry powder: Powerful polyphenol and antioxidant. Rich in vitamins A, C, E & K.
MSM: Reduces muscle damage, pain and stiffness. Supports the immune system.
Boswellia: Helps to preserve the structural integrity of joint cartilage. Excellent for supporting bone health. Reduces inflammation.
Feeding Guidelines
Suitable for all dogs and diets. Add once daily to raw, wet or dry food (mix with a little water for dry food). 
Feeding amount per day;
up to 5kg – 5ml (1 scoop)
5-20kg – 10-15ml (2-3 scoops)
20-40kg - 15-20ml (3-4 scoops)
40+kg – 25ml (5 scoops)
Store in a cool, dark, moisture free place. Batch and expiry date are shown on the tub. Shelf life of 12 months from date of manufacture.
Experience the power of nature with our Herbal and Natural Dog Supplements. Proflax is committed to providing your beloved companion with the very best in herbal care. Order today and witness the difference our supplements can make to your dog's life.