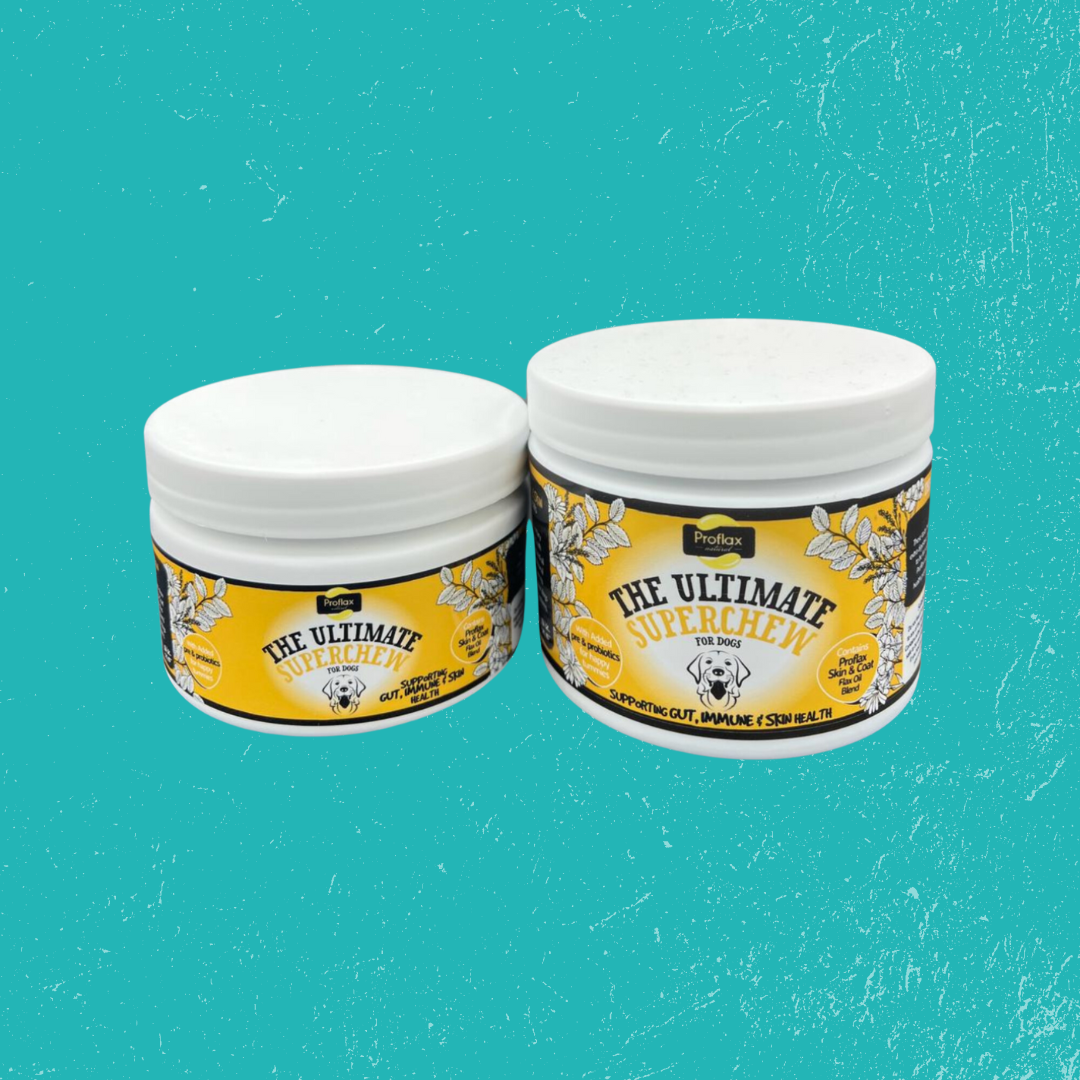 Proflax Skin, Gut & Immune Soft Treats for Dogs
Your dog will love these Proflax Skin, Gut & Immune Superchews! Cold-pressed and fortified with flaxseed and herbs, they help support their digestive, immune, and skin health. Probiotics provide even more support, and the natural active ingredients mean maximum effectiveness. Feed them whole as and when needed for an extra boost of nutrition!
Available in pots of 60 (120g) or 120 (240g)
Skin, Gut & Immune Superchew Treat suitability
Suitable for dogs only. Not recommended for pregnant/nursing dogs or puppies under the age of 8 weeks old. Not to be used if your dog is known to be allergic/reactive to any of the ingredients listed or if your dog is taking blood thinning medication (anticoagulants) /blood modulators. Please check with your own vet if your dog is taking medication as some herbs can affect the absorption of certain drugs.
More Information, Ingredients & Feeding Guidelines
These soft chew treats pack a powerful punch! Feed as and when required as an additional boost alongside your favourite Proflax oils for additional support of your dogs skin, digestive or immune systems, or feed on their own at the daily recommended feeding amount.
Feeding Guidelines (daily, when fed on their own without Proflax oils):
Up to 10g - 1 chew

11 - 25kg - 2 chews
26 - 40kg - 3 chews
Over 41kg - 4 chews
Feeding Guidelines (when fed with Proflax oils):

As and when required for an additional boost, i.e. after anti-biotics, as an immune boost or to further support skin & coat health.
Analytical Constituents: Crude Oil 26.3%, Crude Protein 13.1%, Crude Ash 2.7%, Crude Fibre 3.2%
Composition (mg/per 2 x 2g chews): Proflax Skin & Coat formula (Flaxseed oil, Nettle, Sarsaparilla, Chamomile, Skullcap Baicalensis, Milk Thistle, Ginkgo & Liquorice)800mg, Echinacea Root 300mg, Inulin 120mg, Beet Fibre, Cooked Pork Liver, Starch (Potato, Tapioca), Glycerine, Sunflower Lecithin powder, Caramel. Natural preservatives and antioxidants. Enterococcus Faecium 4 x 10(9) cfu
Storage
Keep out of reach of children and animals.
To ensure freshness ensure that the jar is closed tightly and kept at room temperature and away from moisture. Keep out of direct sunlight. 24 month shelf life from date of manufacture and once opened consume within 3 months.