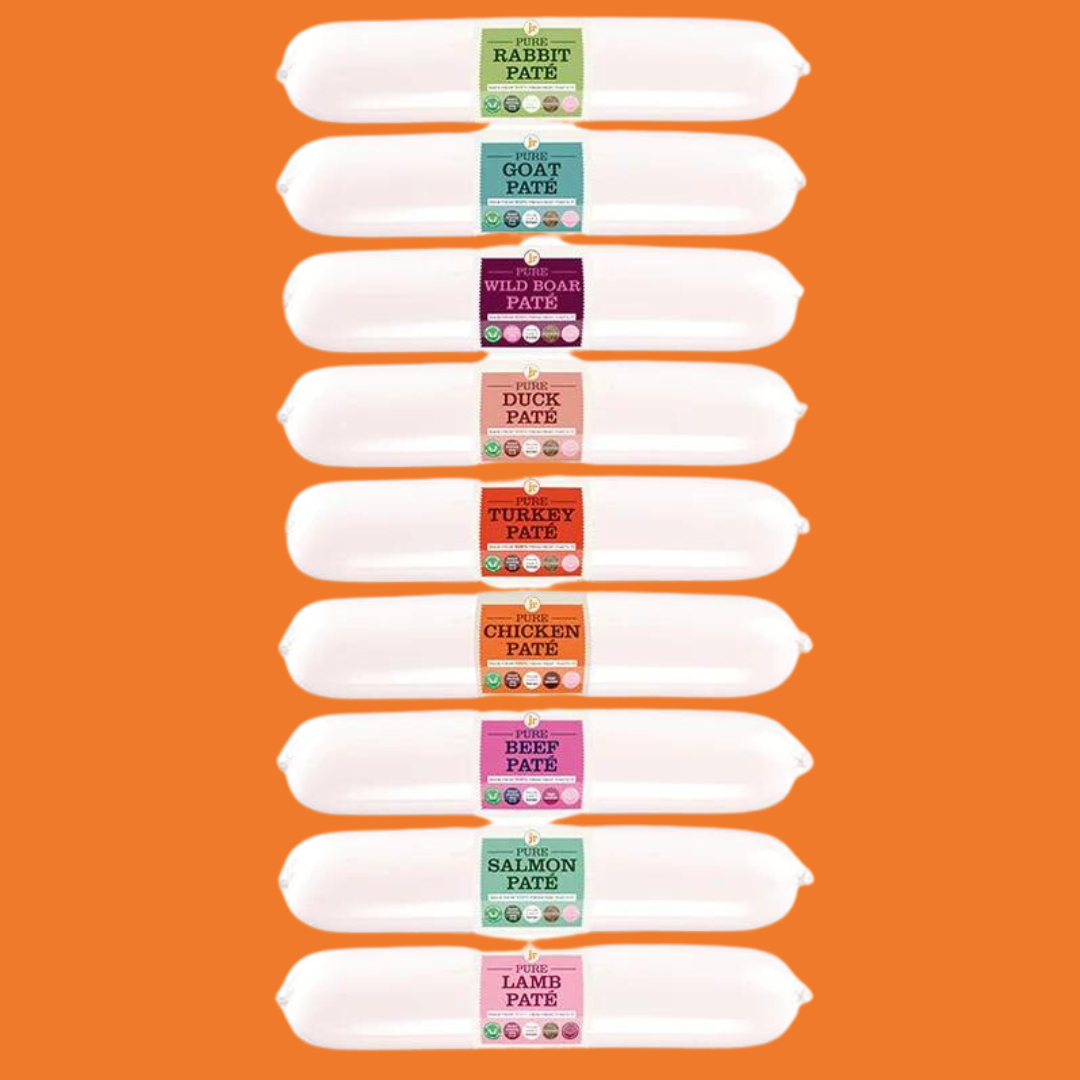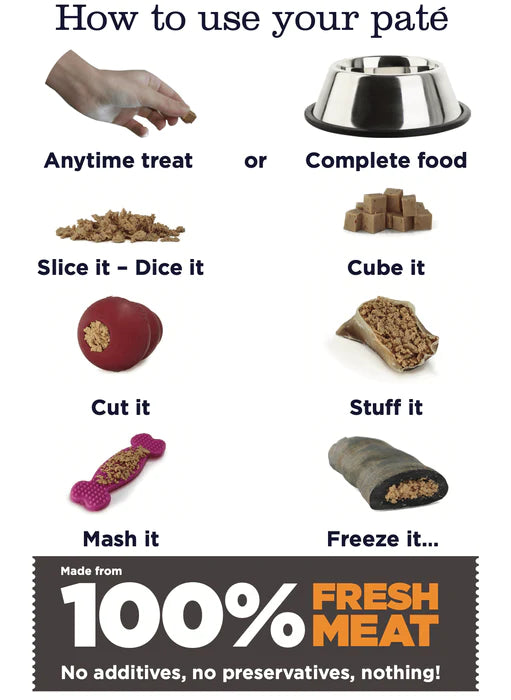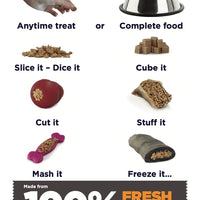 JR Pet Products Pure Paté Variety Bundle 9 x 200g
Wag your tail for this paw-fect Variety Bundle! Not available anywhere else! Enzo's Pet Pantry has bundled all 9 of JR's delectable 200g pates made with top-notch cuts of premium meats. JR's Patés' are a juicy, meaty force to be reckoned with. Suitable for puppies 4 weeks and older, and can also be used as a complete meal.
Experience the thrill of trying something new with this Pure Paté Variety Bundle 9 x 200g! This special box includes all nine different flavors from JR Pet Products, inviting you and your furball to explore a world of delicious possibilities.
Get ready to watch, snap or film your furbaby enjoying this pawsom box - and don't forget to share your journey with us on social media using #enzospetpantry or even better, tag us @enzospetpantry so that we can share the fun across our platforms too!
This box is paws-itively purr-fect for pooches with allergies! You get a single-protein-packed variety of chubs, including 3 novel proteins: Goat, Rabbit, and Wild Boar. Yum!
Slice it, dice it, cube it, cut it, stuff it, mash it, grate it, blend it, freeze it - with this bundle, the possibilities and training wins are truly endless! So let your imagination run wild and get creative in the kitchen! A must-have for any pate-loving pooch!
Key advantages of our Pure Variety Pack include:-
Grain and Gluten free
Single Source Protein
Hypoallergenic
9 popular varieties
Responsibly sourced
Suitable for puppies 4 weeks and over
Great Reward or Enrichment Treat

Complete Food
Easily Digestible 
Healthy and Nutritious
No Additives or Preservatives

No fillers, bulking agents, offal or herbs

Suitable for all breeds, sizes and ages
JR believes that keeping it simple is the best thing for your dog. That's why their Pure Paté contains only one ingredient…100% Prime cuts of Meat!
As with all natural chews, we recommend supervising your dog while feeding and ensuring that fresh clean drinking water is always available.
Enzo's Pet Pantry

Composition: 
Beef Paté - 100% Beef Meat: Protein 32.5% Fat 12.7% Moisture 42.7% Ash 2.8%. Vitamin A: 4400 IU/Kgr Vitamin D: 300 IU/Kgr Vitamin E: 48 mgr/Kgr 100%
Chicken Paté - 100% Chicken Meat: Protein 31.5% Fat 9.1% Moisture 37.4% Ash 1.1%. Vitamin A: 4400 IU/Kgr Vitamin D: 300 IU/Kgr Vitamin E: 48 mgr/Kgr 100%
Duck Paté - 100% Duck Meat: Protein 12.8% Fat 12.3% Moisture 60.1% Ash 5.4% Vitamin A: 4400 IU/Kgr Vitamin D: 300 IU/Kgr Vitamin E: 48 mgr/Kgr 100%
Turkey Paté - 100% Turkey Meat: Protein 31% Fat 9.2% Moisture 57.46% Ash 1%. Vitamin A: 4400 IU/Kgr Vitamin D: 300 IU/Kgr Vitamin E: 48 mgr/Kgr 100%
Lamb Paté - 100% Lamb Meat: Protein 17.3% Fat 29.2% Moisture 46.7% Ash 1.9%. Vitamin A: 4400 IU/Kgr Vitamin D: 300 IU/Kgr Vitamin E: 48 mgr/Kgr 100%
Salmon Paté - 100% Salmon Meat: Protein 13.9% Fat 15.5% Moisture 61.8% Ash 0.9%. Vitamin A: 4400 IU/Kgr Vitamin D: 300 IU/Kgr Vitamin E: 48 mgr/Kgr 100%
Rabbit Paté - 100% Rabbit Meat: Protein 17.3% Fat 10.5% Moisture 64.2% Ash 2.7%. Vitamin A: 4400 IU/Kgr Vitamin D: 300 IU/Kgr Vitamin E: 48 mgr/Kgr 
Wild Boar Paté - 100% Wild Boar Meat: Raw Protein 18.1% Fat 10.2% Moisture 68.7% Ash 2.3%. Vitamin A: 4400 IU/Kgr Vitamin D: 300 IU/Kgr Vitamin E: 48 mgr/Kgr
Goat Paté - 100% Goat Meat: Raw Protein 15.4% Fat 9.5% Moisture 66.3% Ash 2.0% Vitamin A: 4400 IU/Kgr Vitamin D: 300 IU/Kgr Vitamin E: 48 mgr/Kgr
Feeding Guide - Dogs weight: grams per 24 hours 5-10kg : ± 250g 10-20kg : ± 400g 20-25kg : ± 500g 25-35kg : ± 750g 35-40kg : ± 950g